VACATION TOUR OPERATOR COMMISSIONS

With Easy and Direct Access to the Reservation Systems of Vacation Operators and Tour Wholesalers, Your Agency Will be in a Position to Obtain a Greater Share of the Lucrative Vacation Travel Market.
Booking tours and vacation packages can be tedious and time consuming for your agents, involving numerous phone calls and long periods of time waiting on hold. Vax Vacation Access is a revolutionary booking system that gives your agents direct, real-time access to the reservations systems of vacation operators and tour wholesalers throughout the world. This gives your agents more time to develop relationships with your customers rather than with reservation agents working for the travel service provider.
Vax Vacation Access ensures that your reservation system and the system of the vacation operator or tour wholesaler are always in perfect synchronization, so agents can obtain instant confirmation of bookings.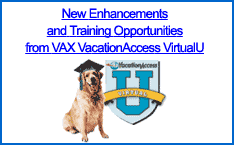 Home Based Travel Agent Business | Independent Travel Agent Program