NATIONAL CONVENTION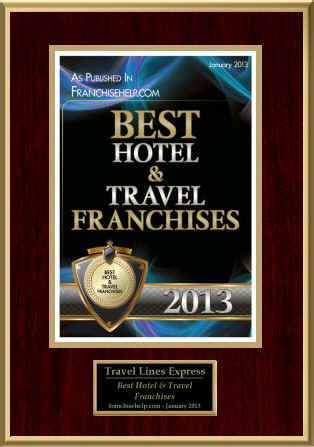 2013 Military Friendly Franchise® List
Annual survey-driven list provides veterans a clear path to business ownership
---
TRAVEL LINES EXPRESS
2013 Military Friendly Franchise® Award Winner

It is my pleasure to inform you that following the compilation of survey results and validation from Ernst & Young LLP,

Travel Lines Express has been named a Military Friendly Franchise

® Award Winner

for 2013! Only Two Travel Agency Franchise Systems were selected.
The Military Friendly Franchise® designation process includes extensive research and a data-driven survey of more than 2,500 franchise concepts. The 2013 list was compiled through exhaustive research by Victory Media in which thousands of franchises nationwide were polled. Methodology, criteria and weighting for the list were developed with the assistance of a Franchise Advisory Board consisting of Mail Boxes Etc. founder Jim Amos, Spring-Green Lawn Care President James Young, Mr. Rooter President Mary Kennedy-Thompson, National Media Director for Anytime Fitness Mark Daly, Military Programs Manager for Snap-On Tools Jon Rucker, and Beth Solomon, President & CEO at the National Association of Development Companies. All board members are military veterans or come from military families. The survey results that determined the 2013 list were independently tested by Ernst & Young LLP based upon the weightings and methodology established by Victory Media.
As a Military Friendly Franchise
®
Travel Lines Express will be included in the official 2013 list www.militaryfranchising.com via a press release and in the G.I. Jobs magazine.
Clearly you have an interest in recruiting military franchisees, and I urge you to continue your already stellar efforts by improving your military-friendliness every year. Your policies, efforts and results used to recruit and retain military veterans were carefully gleaned through our survey and weighted into our rankings.
On behalf of the 3 million military members and veterans seeking a franchise, I thank you for your commitment to offering business ownership opportunities to our nation's most deserving heroes.
Sincerely,
Rich McCormack
Publisher, G.I. Jobs magazine
November 29th through December 2nd 2017
Fort Lauderdale Florida
November 29th 2017

7:00 am
8:00 am
9:00am
11:15 pm
1:30 pm
3:30 pm
7:30 pm

-
-
-
-
-
-
-

4:00 pm
11:00 am
11:00 am
1:15 pm
3:30 pm
6:45 pm
9:00 pm

Registration
Industry Organization Meetings
Breakfast
Lunch & General Session I
Trade Show Exhibits
Destination Workshops
Opening Reception
November 30th 2017

7:00 am
8:00 am
9:00am
11:15 pm
1:30 pm
3:30 pm
7:30 pm

-
-
-
-
-
-
-

4:00 pm
11:00 am
11:00 am
1:15 pm
3:30 pm
6:45 pm
9:00 pm

Registration
Industry Organization Meetings
Breakfast
Lunch & General Session Il
Trade Show Exhibits
Destination Workshops
Dinner & Entertainment

December 1st 2017

7:00 am
7:30 am
9:00 am
11:15 am
3:00 pm
7:30 pm

-
-
-
-
-
-

4:00 pm
8:45 am
11:00 am
2:15 pm
6:15 pm
10:00 pm

Registration
Breakfast & General Session IIl
Trade Show Exhibits
Ship Inspections
Destination Workshops
Evening Gala Event

December 2nd 2017

-
-



10:30 am
2:00 pm



Breakfast & General Session IIIl
Ship Inspections
Departures

Home Based Travel Agent Business | Independent Travel Agent Program